Scams and doorstep safety

Phone the emergency services on 999 if you or someone is in immediate danger
In a non-emergency, call 101
If you have difficulties communicating over the phone due to speech or hearing difficulties, use the Relay UK textphone service. Simply dial 18001, followed by 999 if you are in immediate danger, or dial 101 if it is not an emergency.
What is a scam?A scam is a trick or scheme that a criminal uses to cheat or defraud a person out of something, such as money.
Across the UK, scams are on the increase and they can be difficult to recognise. Below are some tips on how you can keep yourself safe.
Ways to keep yourself safe from scam doorstep callers
Use your door-chain or door-bar when answering the door and if possible, install a door viewer and an outside light
Ask to see the caller's identity card and check it thoroughly. If you feel unsure ask the caller to wait on the doorstep while you phone their company to check. Lock the door whilst you go and phone and don't open the door until you are totally convinced. Anyone who is genuine will not mind you doing this.
Ask them to return at an agreed day and time when you have someone with you. Don't let callers put pressure on you to let them in.
 Don't feel pressured to accept help from a stranger
Don't hand over money to someone you don't know who is offering to help you
Don't give anyone your bank card, even if you are running low on cash
Trust your instincts. If in doubt - keep them out!
Ways to keep yourself safe from telephone scams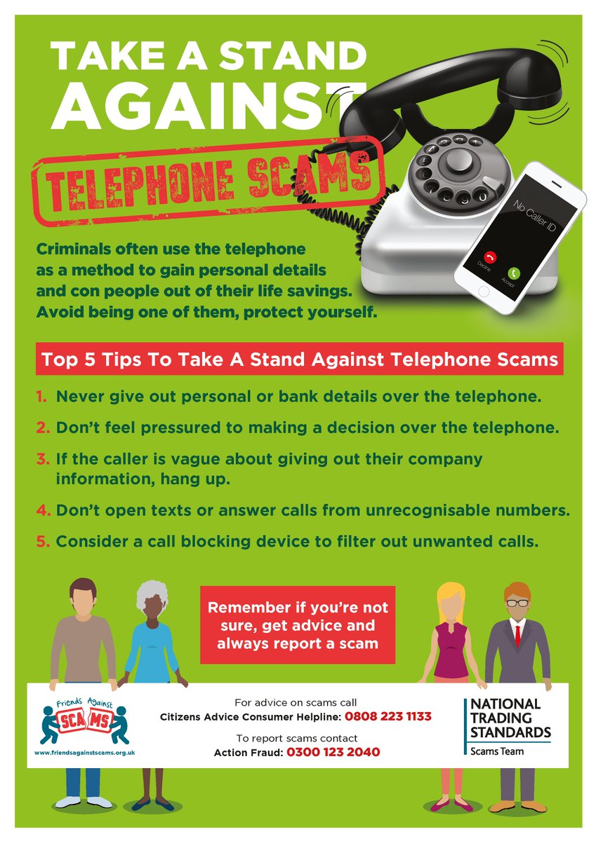 Useful resources
The Metropolitan Police have produced a Little book of big scams that people need to be aware of
Think Jessica - provides free information and advice about postal scams and criminal phone calls
Telephone Preference Service -  provides a free opt out service enabling you to record your preference on the official register and not receive unsolicited sales or marketing calls.
Who to contact for advice on scams

For advice on scams contact the Citizens Advice Consumer Hepline
Helpline:  0808 223 1133 - Monday to Friday, 9am to 5pm
If you can't hear or speak on the phone, use Relay UK to contact us.  Simply dial 18001 on your phone, and then the Helpline number, 0808 223 1133.