Advice agencies

Easy Read information about financial and practical support from Camden is available here.

Camden Advice NetworkCamden Advice Network is made up of a number of organisations in Camden that offer the following specialist advice:
Advice and advocacy for older people
Advice and advocacy for people with disabilities
Advice and advocacy for young people (16 to 24)
Debt and money
Employment
Housing
Immigration
Welfare rights / benefits
Contact details of advice organisations and the specialist advice they offer.  Download a version of the tables with clickable links.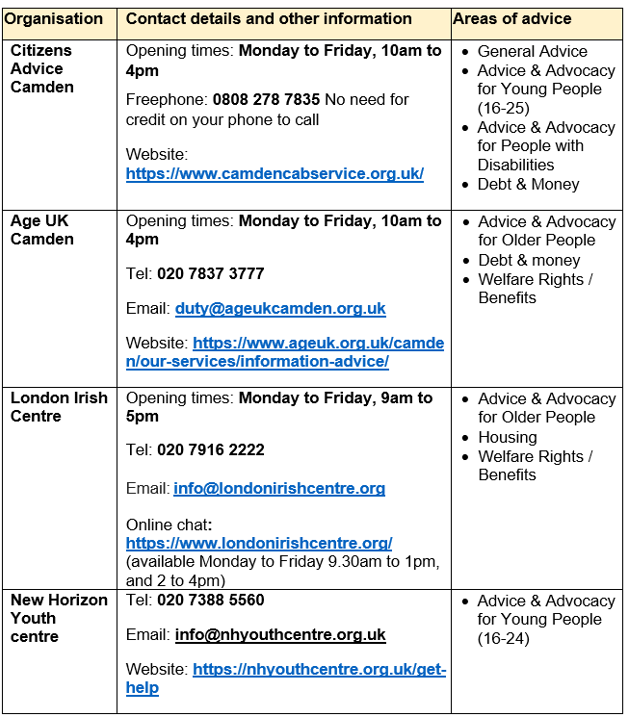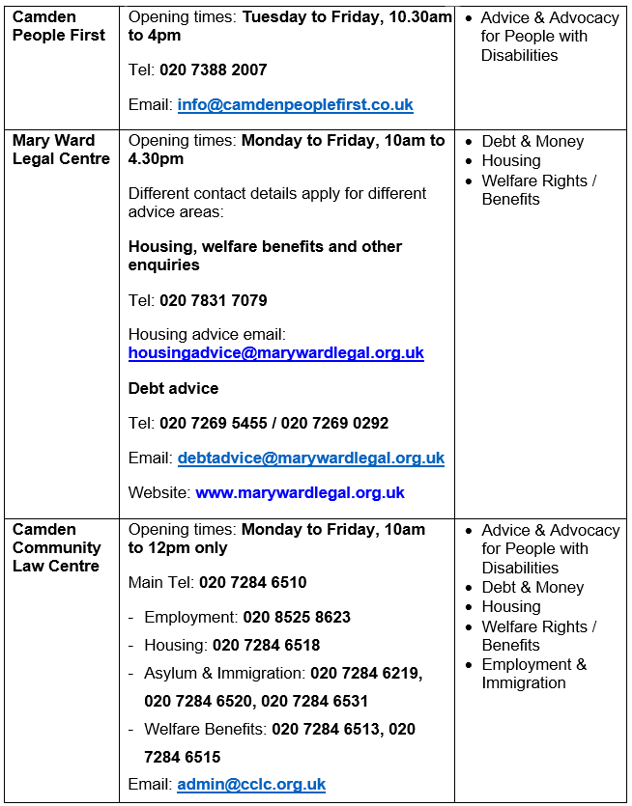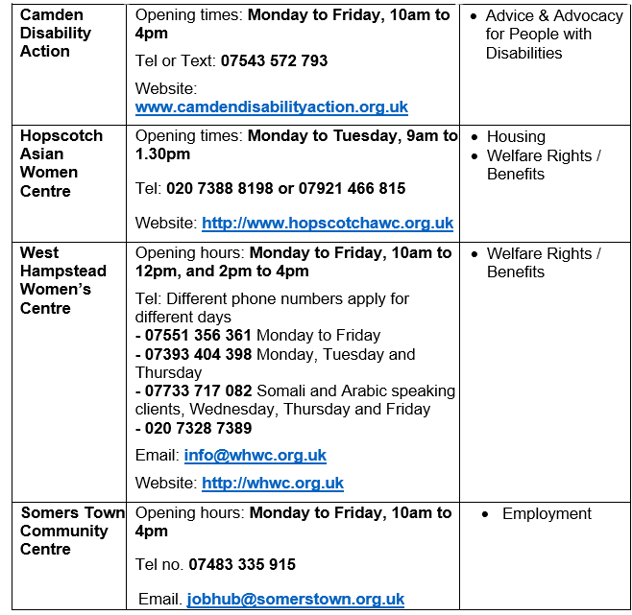 Cost of living support

Information on financial advice available during the cost of living crisis can be found here. This includes how to make sure you are claiming benefits you are entitled to, managing debt and energy-saving tips.
Advice in multiple languages is also available in video, booklet and poster format. These can be found by clicking here and scrolling down to the 'Cost of living crisis materials' section. 
Further information on cost of living support, and financial support payments and discounts is available here.
If you are pregnant or have children, get help to buy food and milk from the NHS Healthy Start scheme (for children under 4).
General benefit, debt and money adviceThe following local organisations offer information and advice across a range of benefit, debt and money advice. Where the information has recently been updated it is provided in full. If information about the services currently available is not up to date then only the website details for the organisation are provided.
Christians Against Poverty (CAP)
Christians Against Poverty (CAP) can provide advice if you are struggling with debt. 
Freephone helpline: 0800 328 0006.
General Advice line: 0808 278 7835 Monday to Friday, 10am to 4pm.  You do not need credit on your phone to call.
Universal Credit - new claims advice line: 0800 1448 4444 Monday to Friday 8am to 6pm.
new claims Webchat: https://www.citizensadvice.org.uk/benefits/universal-credit/claiming/helptoclaim/ - click on the 'Talk to an adviser'  button half way down the page.
Universal Credit - existing claims and problems help line: leave a message or text 07765 293 116, and someone will call you back.
Hopscotch are currently running telephone support for welfare benefits advice wherever possible.
Mobile phone: 07921 466 815, Monday and Tuesday from 10am to 4pm. Callers can leave a message on this number and calls will be returned.  The service is available to all South East Asian communities.
National advice and informationCarers UK
Advice on community care and benefit issues
Email: advice@carersuk.org
For general support
Helpline: 0808 808 7777, Monday to Friday, 9am - 6pm
Mental Health and Money Advice
Mental Health and Money Advice is an online only advice and information service that provides a lot of recently updated information. It is a service offered by UK-wide charity Mental Health UK.
Money Advice Services have developed a coronavirus and your money section.
Advice line: 0800 138 7777, Monday to Friday 8am to 6pm except Bank Holidays
Turn2us is a national charity that provides financial support, including direct grants, to help people during this time. They can be contacted using an online form only.
Working Families provide updated information for workers affected by the coronavirus including benefit information.