Befriending
Telephone befriending is a service that has always existed. During the coronavirus it has become much more important for some people. Speaking to a real person, even on the telephone, can provide support and company especially whilst staying indoors and having less or no contact with other people.
Befriending involves getting to know somebody new. Some services can put two people in touch with each other in order to offer mutual support. Some organisations recruit befrienders who are trained to offer support regularly. This contact can take place entirely over the telephone or via the internet. The service can provide regular company and occupation and can provide a chance to participate in social activities. Just because people are isolating does not mean they cannot be social.
Until now many social activities have been based out in the community, but equally, some people make new friends and gain companionship over the telephone, and participate in activities such as letter writing, book clubs and conversations using computers and the internet.
Visiting is not a part of telephone befriending at the moment. To give you an impression of what befriending might be like, the Royal Voluntary Service in Sheffield have uploaded a video  about befriending that portrays the benefits for both people.
RecommendMe is a website that lists social events and activities that are available to you without leaving the home. Amongst these are some services that offer telephone befriending. Some of these require access to the internet but many do not. People can do things together without being in the same place.
Below is a table of telephone befriending services available (updated November 20).  Download a list of telephone befriending services with clickable links.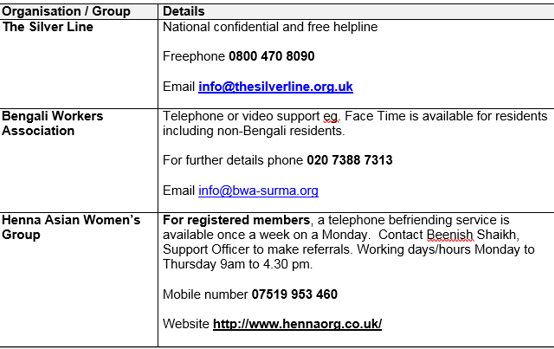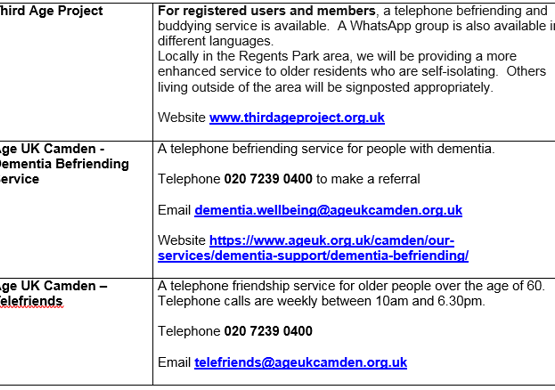 Below are befriending services that are ward or area specific: